OvaScope High Intensity egg scope
Product Information
High power battery operated OvaScope. Watch the live embryo develop even inside very dark or mottled eggs. Great accessory to the Mini Advance incubator.
Description
Watch the Live Embryo Develop Inside Even Very Dark or Mottled Eggs
Now with the OvaScope High Intensity egg scope, you can watch the live embryo develop inside even very dark or mottled eggs.
Higher Light Output for Enhanced Visibility
The OvaScope High Intensity egg candler has a higher light output from a higher spec LED than the standard OvaScope.
Innovative Aid to Egg Candling
This innovative aid to egg candling improves the clarity and visibility of the egg and its contents by completely blocking out ambient light, slightly magnifying the image of the egg, and allowing the viewer to rotate the egg smoothly as it is observed.
Battery Powered and LED Illumination
Battery powered for convenience (4 AA batteries NOT included), the OvaScope High Intensity egg candler uses high output, high-efficiency LED illumination – so no bulbs to replace and no concerns about overheating the eggs during inspection.
Suitable for Any Size Egg
Suitable for any size egg up to duck/turkey eggs. Supplied with a small black ring to seal against the eggshell of smaller eggs.
Ideal for Demonstration Purposes or Classroom Use
The OvaScope High Intensity egg candler can be fitted with a webcam and is ideal for demonstration purposes or classroom use.
Battery Information
The larger power drain means that rechargeable batteries are needed. Suitable sets of batteries with charger are available separately.
The OvaScope High Intensity is subject to EU Design Registration No. 007779729-003
Combine Your Purchase With
2 Total Upsell Products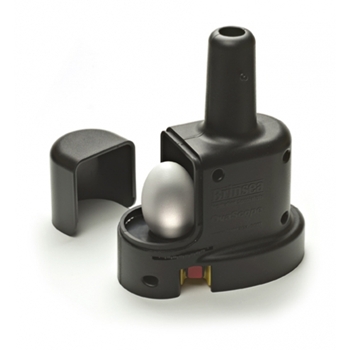 Totat: