OVA-Easy Advance Series II Hatcher
Humidity pump

3 Year warranty

Spares Available

Polygiene Biomaster™
Receive a FREE Humidity Pump with the Purchase of any Ova-Easy
Just enter coupon code PUMP before checkout and the free pump will automatically be added to your cart. For a limited time only and while supplies last.
Product Information
FULLY DIGITAL 192 chicken egg hatcher with full set of covered hatching trays. Ideal for poultry, duck, goose, quail or pheasant eggs.
Description
This separate matching hatcher is the ideal complement to the Ova-Easy 190, 380, or 580 Advance cabinet incubators. Like its brothers, the OVA-Easy Hatcher is designed to offer the best possible performance at a very reasonable price. Each aspect of the design has been reviewed with this objective in mind to ensure that no other hatcher available can give you so many healthy chicks for so little money.
The Ova-easy Advance Series II Hatcher, like all models in the Brinsea® Ova-Easy cabinet incubator range, is fitted with Brinsea's proven Advance fully digital control system which is both accurate and easy to use. Incubation temperature (in °C or °F) and humidity are continuously displayed along with temperature alarms.
Features
The OVA-Easy Advance Series II Hatcher features:
Digital display of temperature and humidity
Automatic temperature control in °F or °C fully factory calibrated
High and low temperature alarms
192 hen eggs capacity
Clear, double-glazed observation door
Sturdy metal frame, energy efficient, insulated cabinet
Unique 'laminar airflow' to eliminate cold spots
3 year warranty

INCLUDED FREE

set of 4 covered hatching trays.

A $120 value included absolutely free

.
Options - Not supplied with the hatcher - to be ordered separately:
Advance Humidity Pump for fully automatic control of humidity
Specifications
Egg Capacities(approximate)
Quail: 500 | Pheasant: 224 | Hen: 192 | Duck: 140 | Goose: 72
Dimensions
H x W x D
18.5" x 16.5" x 31.5"
470mm x 420mm x 800mm
Weight
53lbs (24Kg)
Power Consumption
Maximum 200 Watts - Typical 100 Watts
Power Supply
230v 50Hz or 110V 60Hz
Humidity Control
Optional
Warranty
3 Years
Comparison
Egg Turning
Programmable
Programmable
Ventilation
Fan
Natural by Contact
Fan
Dimensions
H x W x D
18.5" x 16.5" x 31.5"
(470 x 420 x 800mm)
12.6" x 26" x 23.2"
(320mm x 660mm x 590mm)
12.6" x 26" x 23.2"
(320mm x 660mm x 590mm)
Additional Features
Covered hatching trays to safely contain chicks
 
 
Contact Incubation
Programmable cooling periods
Power backup
Stainless Steel construction
Conventional & Hatch mode
Programmable cooling mode
Power backup
Stainless Steel construction
Combine Your Purchase With
4 Total Upsell Products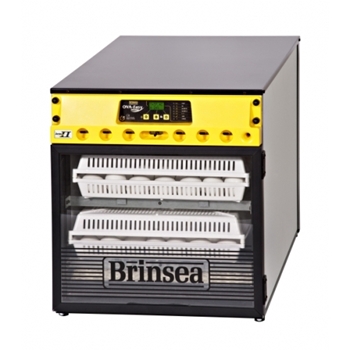 Totat: