Chick Fresh Odor Control Concentrate 4 fl oz
Product Information
To freshen your chick brooder box or chicken coop.
Description
4 oz Concentrate Makes 1 Gallon of Spray Solution
This 4 oz concentrate makes 1 gallon of spray solution - that's five 24 fl oz spray bottles!
Freshen Litter and Bedding in Chick Brooders, Chicken Coops, and Livestock Environments
Chick Fresh odor control spray is formulated to freshen litter and bedding in chick brooders, chicken coops, and other livestock environments.
Eliminate Odors and Create a Healthier Environment
Chick Fresh contains naturally safe microbes to consume the urea and other odor-causing compounds. By eliminating these compounds, not only will you eliminate the horrible odor, but you will also provide a healthier environment for you and your chickens with just a few sprays a day.
Instructions for Use:
Shake well and spray, misting the area to be treated until damp. No need to remove animals while spraying.
Chick brooders and coops: Spray daily around coop floor where litter and odors develop. Periodically removing litter will help. In coops also spray the walls, nests, roosting areas, and around their yard, especially around wetter damp areas.
NOTE: This spray is not suitable for use in egg incubators.
Features
Unmatched control of odors
Proven microbial action
All-natural ingredients
Reduces toxic ammonia vapors
Freshens air quality and improves respiratory health
Indoor and outdoor safe
Ideal for home and classroom use
Combine Your Purchase With
1 Total Upsell Products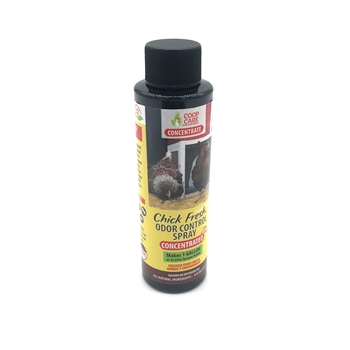 Totat: