Maxi 24 EX fully automatic 24 egg incubator
3 Year warranty

Spares Available

Polygiene Biomaster™

Humidity Control: Auto
Product Information
24 egg capacity incubator with automatic control of temperature, humidity and programmable egg turning. Ideal for breeders of valuable eggs.
Description
Maxi II EX - Redesigned 24 Egg Incubator with Automatic Humidity Control
The popular Maxi II EX has been redesigned to hold more eggs and be even more flexible. The single ring egg disk has been replaced by an innovative mix-and-match quadrant system available in 4 variants, allowing users to incubate more eggs of the same size or eggs of different sizes at the same time. Perfect for incubating rare breed, it provides the convenience of automatic turning with the reassurance of digital alarms and integral automatic control of humidity.
This 24 egg incubator is menu driven and extremely easy to use but provides all necessary features for breeders of highly valuable eggs and those hatching parrot species.
Features
The Maxi 24 EX offers total control of the incubation environment:
Digital display of temperature and humidity
Automatic temperature control in °F or °C, fully factory calibrated
Automatic humidity control in % RH (Relative Humidity) with integral humidity pump
High and low temperature alarms including the new room temperature alarm
Periodic Egg Cooling feature
Automatic egg turning with programmable turning interval and turning angle
Fan assisted air circulation
Clear dome for excellent visibility
Polygiene Biomaster™ anti-microbial plastic construction - robust and easy to clean
24 standard egg capacity, 12 large, 8 extra large or 40 smaller eggs (all 4 egg quadrant sets are included)
The egg quadrants simply clip together so you can mix and match to suit your needs
3-year warranty
Find out more about the Polygiene Biomaster™ anti-microbial plastics.
Specifications
Egg Capacity(approximate)
Amazon/Macaw, Quail, Pheasant: 40 | Standard Hen: 24 | Large Hen, Duck, Turkey: 12 | Goose: 9
Dimensions
H x W x D
13.9" x 13.9" x 6.5"
354mm x 354mm x 165mm
Weight
4lb 4oz (1.92 Kg)
Power Consumption
Maximum 40 Watts - Typical 24 Watts
Power Supply
100 - 240v, 50/60Hz, 1.3A max.
Humidity Control
Auto
Egg Turning
Programmable
Warranty
3 Years
Comparison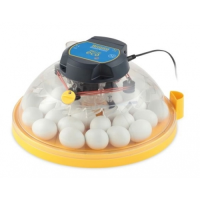 Maxi II Eco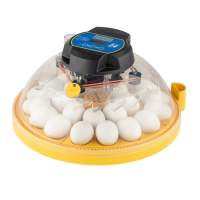 Maxi 24 Advance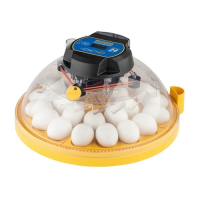 Maxi 24 EX
Egg Turning
Manual
Programmable
Programmable
Temp. Display
Glass Thermometer
Digital
Digital
Dimensions
H x W x D
13.9" x 13.9" x 6.5"
(354mm x 354mm x 165mm)
13.9" x 13.9" x 6.5"
(354mm x 354mm x 165mm)
13.9" x 13.9" x 6.5"
(354mm x 354mm x 165mm)
Additional Features
External water top-up
Antimicrobial plastics
Countdown to Hatch
External water top-up
Antimicrobial plastics
Mix-and-match egg quadrants
Integral water pump
Antimicrobial plastics
Mix-and-match egg quadrants
Combine Your Purchase With
7 Total Upsell Products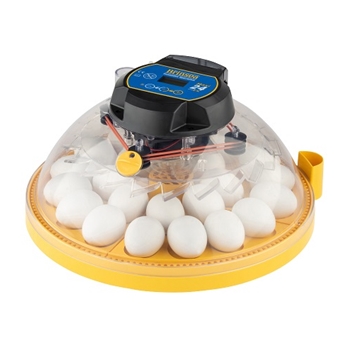 Totat: