Brinsea celebrate 40 years
Brinsea Products, the Incubation Specialists, celebrate 40 years of innovation with 12 new incubators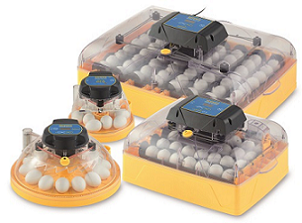 With 4 sizes and 3 feature levels there is a model for everyone!
The best-selling 7 egg Mini incubator has been improved and joined by a 14 egg big brother the Maxi II and the ground breaking new Ovation 28 egg and 56 egg all-digital all-automatic incubators with unique Induced Dual Airflow System complete the range of small incubators.
They are all designed for optimum hatch rates, visibility of the hatching eggs and reliability so the choice of model depends on the number of eggs you want to hatch, the level of convenience needed – like automatic egg turning – and whether you want full control of humidity and the alarm systems which all increase the odds of hatching success.
All are fan assisted, durable and feature Polygiene Biomaster antimicrobial plastics to reduce the risk of infection of the developing chicks. All the functional parts are in the lids so that the hatching debris can be easily washed off the base under the tap and as with all Brinsea products, these new models are covered by a free, comprehensive 3 year warranty.
For more information and introductory special offers see the Mini/Maxi Incubators and the Ovation Incubators sections of this website or call 1-888-667-7009.
---