Scratch & Dent ChickSafe Eco Automatic Chicken Coop Opener and Door Kit
Description
New but Esthetically Substandard Product
This incubator is in perfect working condition and comes with a full 3-year manufacturer's warranty but has some cosmetic defects (marks, scratches, etc.) or has been used for demo purposes.
ChickSafe Eco Automatic Chicken Coop Door Opener
The ChickSafe Eco automatic chicken coop door opener is a tough and reliable system for automatically opening your coop door in the morning and closing it in the evening as light levels fall, keeping your birds safe and giving you peace of mind. Complete with space-saving 2-stage sliding door kit with long-lasting uPVC runners and fully exterior grade weatherproofed aluminum door.
Easy Installation and Operation
Running on only 4 x AA batteries (included), our Eco hen house door opener is easy to fit to any chicken coop with a vertical sliding (or hinged) door. The all-in-one design makes setting up a breeze - no messy wiring or limit switches to attach to your coop. Simply secure the control box to the front of your coop with the 2 screws provided, tie the lifting cord to your existing door and you're away. No manual calibration is necessary; the ChickSafe Eco automatically adjusts to the height of your hen house door.
Reliable and Weatherproof Design
The ChickSafe Eco features a novel mechanism (patent pending) with only one moving part and no mechanical switches for ultimate reliability. Weatherproof and made from UV resistant materials, it is designed to work in extreme conditions and can lower and raise a door weighing up to 8 Lbs. It features an 'auto-stop' if a chicken is obstructing the door.
Light Level Detection
Because the ChickSafe works by detecting light levels and looks for slow changes in light, they aren't affected by car headlights at night. For your convenience, the sensitivity of the falling light level is adjustable, and an indicator shows that the door is open, closed, if the batteries are low, or if there's a fault. The battery level is also shown on the digital display.
Space-saving Coop Door and Runner Kit Included
The space-saving coop door and runner kit included is a great solution for those with limited height who are not able to use their existing coop door or do not yet have a door. Suitable for nearly all coops, it is easy to fit with the 6 screws provided and will get you set up in no time.
Long-lasting Materials
For long-life, the 2 runners are made of uPVC and the door of fully exterior grade weatherproofed aluminum for excellent corrosion resistance. Strong yet light, this kit is an ideal replacement for chicken coops with horizontal sliding doors or for chicken coops with heavy doors. The 2 door panels each measure 11.8 inches wide x 7.3 inches tall for a maximum pophole size of 11 inches wide x 13 inches high. The two runners measure 22 inches in height.
Features
Easy to fit - self calibrating
Suitable for -20 to 120°F
Weatherproof, UV resistant designed to work in extreme conditions
Unique robust mechanism (patent pending)
8 Lbs door lifting capacity
Auto-stop feature if a chicken is obstructing the door
Powered by 4 AA batteries supplied
Long battery life - typically 1 year
Retains settings when you need to change the batteries
Indicator visible up to 100 yards away - Door status, low battery warning, fault alert
Easily adjustable light sensitivity for closing
Not affected by lightning or car headlights
Space-saving 2 stage sliding door kit included
Includes 2 long lasting uPVC runners, 2 fully exterior grade weatherproofed aluminium door panels and 6 screws
Maximum pophole size 11 in wide x 13 in high
Low maintenance
Full 3 year warranty
Combine Your Purchase With
4 Total Upsell Products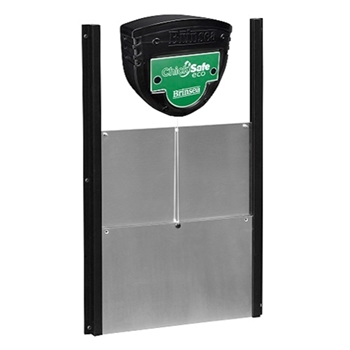 Totat: